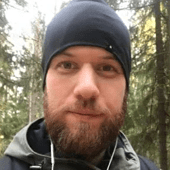 Joakim Kolsjö
Developer – Auctionet IT
Software developer since 2008, hobby programmer since 1998.

I like making great experiences for users, solving tricky problems and working with others. I like mentoring and teaching. I like to discuss new ideas and often bring them myself as I like to try new things.
I'm a full-stack developer, especially interested in backend, optimization, refactoring and server automation, but also UX.
I like expressive languages like Ruby and Elixir and code that is intention revealing and clear. Because programming should be fun! :)

I'm currently exploring Elixir and Elm.